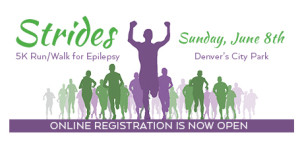 Strides for Epilepsy
06/08/14
City Park
Denver, CO
The Inspirational Cause:
It's the largest statewide epilepsy awareness event!
Last year the event raised $150,000; proceeds help advance research, support over 50,000 adults and children in CO who live with seizures and raise awareness.
The Epilepsy Foundation of Colorado is a non-profit organization whose mission is to lead the fight to stop seizures, find a cure and overcome the challenges created by epilepsy.