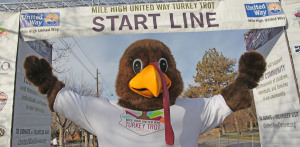 Turkey Trot
11/27/14
Denver, CO
The Inspirational Cause:
Start the Holiday off right by showing gratitude for the ability to move and exercise! Some mountain fresh air isn't so bad either!
It's the 41th Annual Turkey Trot hosted by the Mile High United Way – a Denver Tradition!
Whether you run, walk or trot your fee goes to help the Mile High United Way build our community by preparing children for school, equipping young adults for college and giving adults and families the opportunity to move toward self-sufficiency.