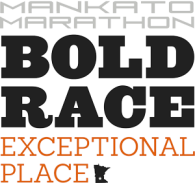 Mankato Marathon
10/18/14 – 10/19/14
Mankato, MN
Check this out:
Check out this video and get INSPIRED!
There is a distance for everyone: Marathon, Marathon Relay, Half Marathon, 10K, 5K and KidsK. Everyone can join in the fun!
Keynote speaker is Dick Beardsley – An a American long-distance runner best known for his close finish with Alberto Salazar in 1982 at the Boston Marathon.