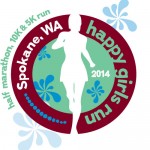 Happy Girls Half Marathon
09/26/14
Spokane, WA
What we love:
Happy Girls! Happy girls make us HAPPY Girls.
Happy Girls Half benefits the KIDS center — A non-profit organization that is dedicated to the prevention, treatment, and evaluation of child abuse.
This race is for all happy girls! bring your sister, mom, grandma or girlfriends because they are all welcome!