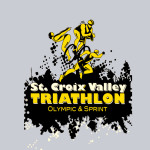 SCV Tri
08/30/14
Hudson, WI
Check this out:
There are two distances – Olympic and Sprint.
It's the only race where you get to do the hula! A luau, complete with a hog roast, will greet you at the finish line!
The kid's can TRI too, 20 yd swim, 2 mile bike and .5 mile run!